anchor Coming to the Bahamas is a great experience. Your trip will be even more enjoyable if you plan properly. There are several steps you should take before coming across to our lodge.
GPS Coordinates: N 26.38.774 – W 78.57.042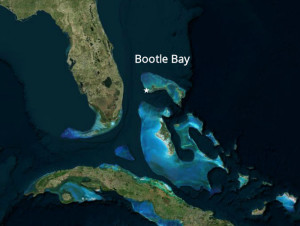 Planning
You will need a passport for each person onboard. As space and dockage is limited at our lodge please make sure to book your rooms in advance to insure that they are available.
Maintenance
There are not many repair facilities and the availability of spare parts is not as good as you would find in the United States. Be sure to service your boat before you make your 60 mile crossing. It makes sense to bring some spare parts like fuel filters, spark plugs, and props. Repair facilities are generally found in Freeport about 20 minutes away.
Weather
The best advice we can give you about the weather is to watch it closely. At the height of the current in the Straits of Florida, more than 30 million cubic meters of water are moved per second. To put that in perspective consider this: If you combined the Amazon, the Mississippi and the St. Lawrence River and every other river that empties into the Atlantic Ocean, they would move only 0.6 million cubic meters per second. This current blended with a north wind can make for a very bumpy crossing. You should be familiar with what kind of seas your boat can handle.
Some sites that may be helpful include:
Buoy and Ship Reports
National Weather Bureau Interactive Weather
Atlantic Tropical Weather Center
Doppler Radar Images from Around the U. S.
Safety Equipment
Please check over all of your equipment including your VHF radio, life jackets and flares. A good piece of safety equipment to have on board is an EPIRB. It is basically a transmitter that allows the U.S. Coast Guard to pinpoint your location and help you if needed. The cost of EPIRB's has gone down quite a bit and you should be able to get one at a reasonable price. It's small price to pay if you end up needing it.
Float Plan
Before leaving you should file a float plan with someone you know. If you should fail to arrive they can call for help. You can create a float plan here for free within just a few minutes.
Fuel
Fuel is readily available approximately 4 miles away at West End.
Fishing Bait and Tackle
We suggest you bring necessary bait, chum and tackle. These items are available but require a 20 minute drive into Freeport.